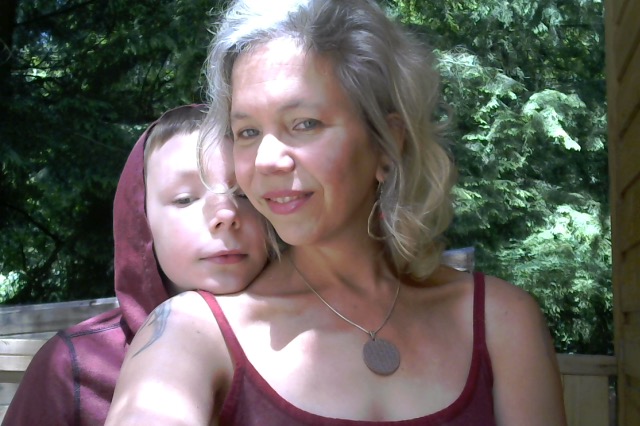 ~ Libby
Elizabeth Golden
Bodyworker & Doula
Dancing For Birth(TM) Instructor & Trainer
Healthy living educator & doTERRA Wellness Advocate

"The first wealth is health" ~ Ralph Waldo Emerson
I discovered my love of natural therapies early in life. The pathways and techniques that brought me relief from various forms of illness and injury showed me that health is indeed the first wealth. The techniques I share have become my trusted tools for balanced living. I found my passion in maternity care after seeing the need pregnent women have for good support coupled with the ability to have a profound affect on the human condition from the start! Keeping birth safe and sacred is my honor. I'm a fan of living well to promote longevity and enjoy helping others care better for themselves for a longer happier life.

Being a cancer survivor and working in maternity care are two reasons I'm passionate about reducing toxins in lives. I love sharing ways to keep our bodies safe by reducing toxin exposure and cleansing naturally as it's impossible to avoid all environmental exposures. I also love helping others gain deeper insight and presence in their bodies with creative control to improve their health and happiness through inner landscape energy healing and metaphysical awareness coupled with tried and true natural body care therapies.
As a bodyworker, I've worked in medical and chiropractic settings, in the high-end spa arena and had a private practice. I currently work as a Dancing For Birth(TM) instructor/trainer and provide wellness through doTERRA, reflelxogy, acupressure, spa and energy healing therapies, womb care, longevity care and bodywork for those who are preconception, pregnant and postpartum including abdominal wrapping and mother warming services.
"Self care is the best health care and prevention is a golden key" ~ Libby Golden
My work as a doula includes holistic fertility planning and conscious conception, naturally healthy pregnancies and holding sacred space for deliveries that usher our little ones through in a state of grace, love and trust. No matter where or how you birth, keeping birth and the first hours and days of life undisturbed and natural is my greatest honor. Dancing for Birth classes are currently online and are comprehensive childbirth education fused with fitness and celebration. They provide labor readiness skills and emotional connectedness through all stages of the childbearing years.
Professional Association
Associated Bodywork and Massage Professionals - Certified Member since 1996

Massage Licenses
NC State License - 1999 - 2001
WA State License # MA 00016622 - 2002 - 2019
WA State Intraoral massage endorsement - 2009 to 2019
Currently applying for OR State License 2021
Certifications & Trainings
Certified Massage Therapist -Therapeutic Health Center/Rose Lucero 1996
Base Trainings Included: Swedish Massage, Skin Brushing, Aromatherapy, Reflexology, Shiatsu/Acupressure, Anatomy and Physiology
Reiki I & II with Ida Diaz Reiki Master, Hypnotherapist 1997
Ordained Minister Universal Life Church 1999
Reiki III/Master with Roberta Tsaklis LMP, Reiki Master 2000
Myofascial Release/Cranio-Sacral Techniques with John Barnes 2000
Bodywork for the Childbearing Year with Kate Jordan Seminars 2001 & Teacher Assistant 2015
Labor Support Doula Workshop Seattle Midwifery School 2002
Massage for the Mother to Be with Judith Koch 2004
Massage Doula Network Certified Infant Massage Educator with J. Koch 2004
Spa Therapy, Pampering that Heals with Judith Koch 2005
Luohan Qigong and qigong teacher training with Sifu's Kim Ivy and Gaspar Garcia at Embrace the Moon / Seattle 2005
Jin Shin Do Acupressure Bastyr University with Jin Shin Do Foundation 2006
Chi Nei Tsang Fundamentals with Andrew Clauer 2008
Head, Neck and Jaw w/ Intraoral Massage with D. Juhan & D. Campbell 2009
Certified Master Food Preserver Seattle Tilth 2010
Dancing for Birth(TM) Instructor - Stephanie Larson - Bastyr University - 2013 & 2015 & 2017 & 2018
Shiatsu Massage for Labor - Leslie Stager RN, LMT - 2013
Full Breast and Chest Massage / Lomi Lomi - Barbara Hellyn Heard 2017
Mammossage - massage for healthy lactation with Aubrey Lisecki BS, LMT - 2018
Acupressure Mastery with Michael Reed Gach - 2020/2021
Womb Care with Barbara Loomis - 2021

There's always a way toward wholeness and home. That place is within.
Mindfulness Always Matters!
"Fluctuat Nec Mergitur"
Tossed by the Waves, She Does Not Sink
( and can learn to surf!)